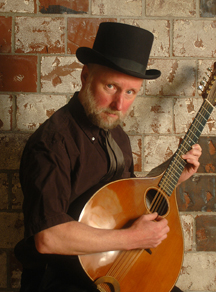 Dave Bartley
Dave Bartley plays guitar, mandolin, cittern, and several other stringed instruments. He has played many styles of music over the years and continues to range over several genres. He has performed throughout the US and Canada, and in England, Australia, France and Greece. It is difficult to count the number of bands in which he plays.
Dave composes dance tunes, many of which may be found in the KGB Tune Dossier and KGB Tune Dossier, Volume 2. A waltz he wrote and KGB recorded, The Clock Stopped, is used to teach cross-step waltz in much of the US and other parts of the world. A reel he wrote, Vladi on the Trans-Siberian, seems to be popping up at dances and jam sessions all over the place, including on five recordings (see below).
He also on occasion teaches guitar, mandolin, and cittern/bouzouki. He has been known to perform on solo classical guitar as well. Contact him for information or bookings. for more information.
Dave plays in these bands and on these recordings. Dave's biography is here.