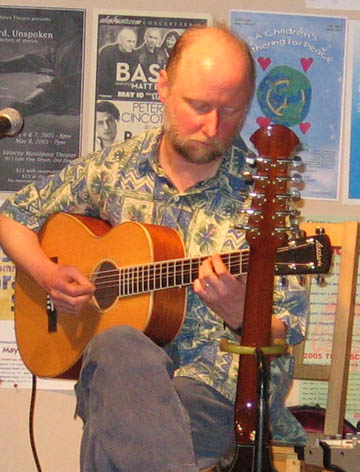 Dave Bartley plays mandolin, guitar, cittern, and numerous other plucked string instruments. He has also written hundreds of tunes, some of which are working their way into repertoires around the country. He can provide a quiet foundation, inject a fiery driving rhythm, or pull wicked licks out of thin air. His odyssey from flashy rock guitarist to classical musician to eclectic sideman to tunesmith filters through his fingers, making you wonder what he'll do next, playing the tune, then playing around, inside, and beyond it.
A Seattle native, Dave got his contra dance music start in 1989 with the Seattle band Scotsbroome. He currently is a member of avant-contra and couple dance band KGB with Claude Ginsburg and Julie King, Bag o'Tricks with Sande Gillette, Betsy Cooper, and Anita Anderson, and Contra Sutra with Ryan McKasson, Marni Rachmiel, and Russell S. He also periodically plays with other groups, including the Avant Gardeners, and in various combinations with fiddler Deb Kirkland and other Northwest musicians.
Dave has also played English country dance music for 20 years, starting at a performer and musician with the performance group Nonesuch English Country Dancers, and continues with Bag o'Tricks's alter ego Tricky Brits and Roguery, with Shira Kammen, Jim Oakden, and Anita Anderson.
Dave has also studied and played music of the Balkans and Greece, in the past accompanying the dance performance troupe Radost as well as past bands Aegean View, Pangeo Pasatempo.
In other genres, Dave plays French cafe music with Rouge, accompanies the supple voice of global songstress Gina Sala, and Viennese waltz and other couple dance music with the Valse Café Orchestra.
Dave has played mandolin onstage in the Seattle Opera in the 1999 and 2008 productions of Mozart's Don Giovanni. With the Seattle Symphony, Dave played guitar in 2004 for John Adams's Naive and Sentimental Music and mandolin for Mahler's 7th and 8th Symphonies.
Besides playing in many parts of the US and Canada, Dave has taught workshops and performed for festivals, dances, and concerts in England, France, Greece, and Australia.
Dave has composed over 300 fiddle tunes, some of which are making their way into repertoires other than his own. The Clock Stopped is used by Richard Powers at Stanford University and elsewhere to teach the cross-step waltz. Vladi on the Trans-Siberian, The Ring of Kohala, Trip to Sofia, and Crimea River are among his compositions that have been recorded by bands in the US and England. Many of them are published in the KGB Tune Dossier and Tune Dossier Volume 2, as well as an unpublished Tune Dossier Volume 3, and a gradually growing Volume 4
Playing orchestral percussion throughout public school, Dave picked up guitar at age 12 and, during high school and college, played in a series of rock bands including Aries and Mantis, learning note for note the solos of progressive rock icons such as Yes's Steve Howe and Genesis's Steve Hackett, as well as guitar heroes such as Jeff Beck, Jimmy Page, and Eric Clapton. At home, the eclectic musical tastes of his siblings and parents exposed him to a wide range of genres including blues, light opera, and Irish folk music.
In his early twenties Dave studied classical guitar with Gary Bissiri and played it professionally on the side while pursuing a career in software engineering. After marrying the love of his life, Mary, he found a new set of heroes in bands like 3 Mustaphas 3 and Brave Combo, and has enthusiastically pursued musical eclecticism ever since.
Click here for Dave's upcoming musical schedule.